Become An AmeriGlide Distributor
Join the AmeriGlide family!
The accessibility industry is positioned for explosive growth. With over 10,000 Baby Boomers a day turning age 65 and that trend continuing for another 10+ years, and the recent pandemic causing many seniors and their loved ones to reconsider the choice of assisted living facilities or nursing homes, home access is the obvious and necessary alternative. The companies aligned with a consumer trusted and recognized brand will be best positioned to grow and thrive in this new economy.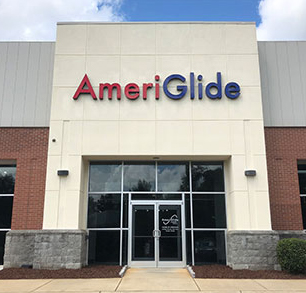 Why Partner with AmeriGlide?
The opportunity we offer is unique in the accessibility industry! If you are ready to become the dominant accessibility player in your area, the AmeriGlide Distributor program may well be your best path to success.
Unlike many other accessibility companies, we are also manufacturers. We have cut the middle man out of the equation which allows us to pass the best price on to the customer as well as our partners.
A host of competitors sell accessibility equipment, however the AmeriGlide Distributor Program provides a proven business plan to profitability.
We Are
The Manufacturer
Unlike other large national accessibility franchises, AmeriGlide is the manufacturer! We can eliminate the middle man to keep our costs lower. This means we can offer you lower costs and higher profit margins.
A real win-win for everyone!
We Will Send
You Leads
We will send you exclusive leads for your area for curved stair lifts, elevators, commercial VPLs & IPLs, and many more! The corporate office will work on optimizing your ads and your positioning in your territory in order to make you the pioneer of your market!
Installation
Partners
Whenever the corporate office sells a high ticket item in the distributor's territory, we will partner with the distributor and share the profit margins. In exchange, we will want you to do the on-site visit and the installation in order to ensure better customer service!
Major
Nationwide Brand
AmeriGlide is reknowned across the United States as the best value provider of mobility and accessiblity solutions.
Full Line
of Products
From mobility scooters to commercial elevators, AmeriGlide offers an incredible line of products to meet almost any mobility need.
Marketing
Experts
Our marketing experts will strive to make sure your website is seen through natural and paid listings on major search engines.
What Will You Get From AmeriGlide?
E-Commerce Website
We will provide a customized website designed to provide the distributor dominant localized Internet positioning.
Example:
www.ameriglide-marietta-ga.com
Exclusive Territory
Each AmeriGlide Distributorship includes a defined geographical territory which is exclusive to the distributor. AmeriGlide will not establish any other distributor in that territory. No other manufacturer provides such protection for their clients.
Expert Training
AmeriGlide Distributors attend a one week training school at the AmeriGlide corporate office with an emphasis on product and sales knowledge, as well as online training on a regular basis.
AmeriGlide Trademarks
AmeriGlide invests millions on advertising each year and the AmeriGlide brand is renowned nationwide as a leader in accessibility. As an AmeriGlide Distributor you are provided licensing rights to use AmeriGlide trademarks for marketing purposes in your territory. Distributors will be recognized as the official AmeriGlide representation in their territory and operate under license as AmeriGlide of (their territory).
Example:
www.ameriglide-marietta-ga.com
25-40% Discount on Products
All AmeriGlide Contractors, Dealers, and Distributors are given a discount when purchasing AmeriGlide products to fulfill their orders. Distributors are given our largest discount which typically runs from 25-40% off our regular prices, depending on the item.
Corporate Partner
When we receive leads for products needing installation, AmeriGlide corporate will partner with our local distributors to do any on-site visits, installation, and service needed. This helps us to ensure the best customer service possible. In exchange, we split the profit margin with the local distributor.
Marketing Advice & Guidance
As an AmeriGlide Distributor you receive our expert advice on how to build a successful marketing plan for both your local brick and mortar operation and the Internet. We will optimize your ads and local positioning to ensure you get more leads.
After Hours & Overflow Sales Support
A call center to take overflow sales calls and after hours calls developed by the distributors website. A distributor's web site is available online 24/7 and people actually do shop 24/7. We provide sales support for distributors with our highly trained call center agents 7:30 am - Midnight EST, seven days a week.
Minimum Requirements
AmeriGlide has several specific requirements you must meet in order to be approved for our distributor program.
Presentation Space
An AmeriGlide Distributor's success starts with the ability to provide equipment demonstrations. Distributors are required to have appropriate show room space to stock and display all AmeriGlide products and include AmeriGlide storefront signage. The minimum required space is 500 sq. ft.
Warehouse/Shop Space
AmeriGlide Distributors prepare equipment for installation and refurbish stair lifts for sale or rental. A minimum of 500 square feet is required for equipment and storage.
Elevator Technician
In order to make you become the elevator pioneer in your market, you need to be able to install this product.
Sales Quota
Distributors and corporate will agree upon a yearly sales quota commitment for a distributor's territory.
Sell Only AmeriGlide
AmeriGlide provides an exclusive territory and a host of other tangible services to each distributor and in return requires distributor product exclusivity. If AmeriGlide offers a product or product line the distributor must represent the AmeriGlide product exclusively. For example, AmeriGlide offers multiple models of stair lifts. Distributors are required to sell and supply AmeriGlide stair lifts only. No other manufacturer's stair lifts may be represented or supplied.
Purchase Equipment
The initial stocking demo order for new AmeriGlide Startup inventory and showroom displays will typically cost between $25,000 to $40,000 depending on the size of the territory.
Sales Staff
Distributors must employ at least one full time outside sales person.
Subscribe to Our Advertising Program
According to your territory size, you will need to invest a monthly advertising budget which will be managed and optimized by the marketing experts from the corporate office.