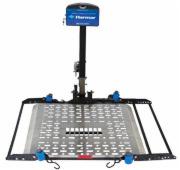 The AmeriGlide Rave is an ultra-compact stair lift designed to make restoring accessibility to your multi-level home as convenient and easy as possible! Homeowners with exceptionally narrow stair cases will love the ultra-thin design of this stair lift. The lift unit takes up only slightly more than 11 inches when folded, allowing able-bodied housemates and guests optimal access to the stairs. The AmeriGlide Rave is built for durability, with a tough all-metal case construction that withstands normal wear-and-tear far better than other comparable stair lift brands. The powerful rack-and-pinion drive system can safely transport up to 350 pounds of user weight, and an adjustable-height padded seat with durable folding arms ensures that you will remain comfortable during transit - the seat measures in at 19 inches wide and 14 inches deep.

The AmeriGlide Rave differs from many of our competitors' stair lift units in that the track attaches to the stairs themselves rather than the wall, and every point of contact uses a single bracket, making installation easier on homeowners and handymen. The Rave can be mounted on either side of the stair case to fit your exact preferences. The Rave is compatible with any standard household power outlet, and the battery that powers the unit charges constantly as the Rave moves up and down the track, providing a reserve of power that keeps your stair lift going even in the event of a power outage. An arm-mounted operation switch is included as a standard feature, along with AmeriGlide's standard array of safety switches that prevent the lift from operating if an obstruction blocks your path. Finally, the Rave's seat swivels in either direction and locks parallel to the wall (the riding positon) or perpendicular to the wall (for getting on and off the seat).

Best of all, the AmeriGlide Rave is a product of American ingenuity and workmanship, and every unit is manufactured right here in the United States of America!

Stair lift users need a unit that is safe, comfortable, reliable, and easy to install. We think you'll agree that the AmeriGlide Rave satisfies all of your needs. To order your Rave stair lift, contact our mobility specialists today!