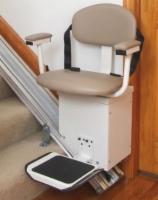 The AmeriGlide Auto Scooter Lift 350 is one of our most popular vehicle scooter lifts. This is because it works with almost every scooter available.
The Auto Scooter Lift 350 also comes with a unique self adjusting hold-down-arm that firmly holds your scooter in place. The scooter lift's hold-down-arm will automatically apply the proper amount of pressure.
The steel platform automatically folds up, so you only need to drive your mobility scooter onto the platform and the Auto Scooter Lift will do the rest. Do you think the Auto Scooter Lift 350 may be for you? Contact one of our scooter lift experts today.